Birdee has a new look... A redesigned logo, a new graphic design with more pop colors, a new font, a more assertive style, maybe also more direct. We have chosen pastel, dynamic colours expressing optimism and clarity! We have designed various shapes and very refined graphic lines to reframe your future prospects.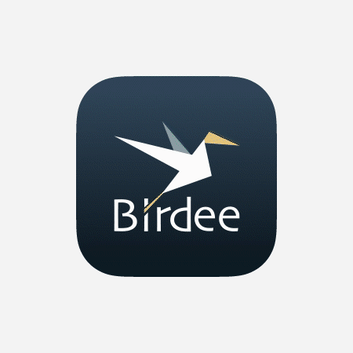 We have thus voluntarily marked our graphic difference. This is not surprising, because at Birdee, we like to think differently.
Our new identity aims to reflect the values that have been ours since the beginning: transparency, reliability, simplicity, commitment with an undoubtedly pioneering and go-ahead character.
Our challenge is clear: to offer you solutions that go beyond traditional banking products.
With a touch of humor and a few plays on words, our mission is no less serious: to democratize financial services, put technological innovation at the service of the greatest number of people and allow everyone to save for what makes sense to them.
While offering you the same quality of service, we have abandoned financial jargon and made Birdee even more user-friendly.
In addition, we want to mark our commitment to the planet, our future and the future of our children. All our portfolios focus on socially responsible investments. We increasingly value ethical and sustainable investments. Investing in our products also means creating a positive change in our company through your investment.
Finally, Birdee has benefited from some modifications but has not forgotten the essential ones: YOU. By trusting us, you entrust us with your money. But you remain in full control and it is up to you to set the rules.
Choose to invest in your dreams, whatever they may be: a cozy home, an adventurous vacation, or a well-deserved rest. Choose to make sense of your money.
Take a look at our different portfolios here